Plano Air Conditioner Repair
Eastin Heating & Air
Eastin Air, a family-owned business that has been offering air conditioning, heating repair, and installation services in the Dallas area since 1984, is a family-owned business. Plano Air Conditioner repairs and replacements, system check-ups, radiant barriers, insulation, home comfort audits, energy tests, and other services that help keep your system working and save you money, are just a few of the services we provide. Whether you need an Air Conditioner replacement, repair, evaluation, or new installation in Plano, we can assist!
Established Trust
For almost 35 years, Eastin Air has been a staple in the Plano neighborhood, providing homeowners with high-quality air conditioning and heating services. We're a family-owned company that takes pride in our reputation for quality.
Warranty
All installations come with a one-year warranty from Eastin Air, ensuring that you are completely delighted with your new system. We want you to be satisfied with your Plano air conditioning replacement for years to come, and our warranty ensures that! Eastin Heating & Air also stands behind its work with a 10-year parts and labor warranty on all systems installed. This guarantees that you'll be happy with your new system for years to come and that you can rely on us to be there when you need us. For a free consultation, contact us today!
Preventative Maintenance
We provide a number of preventative maintenance services to keep your system functioning efficiently and avoid costly problems. For a free consultation, contact us today! We don't charge extra for overtime because we're available for you, 24 hours a day, 7 days a week!
Testimonials
We adore our clients, and we're thrilled to have so many! See what they have to say about us on our testimonials page. We're confident that you'll be pleased with Eastin Air's service.
Services
Eastin Air specializes in Plano Air Conditioner Replacements and provides Plano Air Conditioner Repair and Replacement Services. Eastin Heating and Air Conditioning is a full-service company capable of servicing and repairing all brands and models of air conditioning and heating systems. We've been in business for over 35 years and have the knowledge and expertise to get your system back up and running. We offer a variety of services to ensure that our customers are completely satisfied. Here are a few examples:
Quality AC Installation
Because Texas can be extremely hot or cold, it's critical to keep your air conditioner and heater working. You don't want to be trapped in the heat or cold without a functioning air conditioner or heater. Eastin Air will assist you in maintaining your system so that you are always comfortable with your own home! Remember that every air conditioning installation comes with a warranty for your peace of mind. Compressors, coils, and parts are typically covered by a 5- to 10-year warranty from HVAC manufacturers. This means that if something goes wrong with your system during that time, the manufacturer will repair the part for free. This same warranty is offered by Eastin Air on all systems installed by our firm. We also offer extended warranties! Our warranties are less expensive than you would imagine, so you can rest assured that when you choose Eastin Air, you're getting the best deal available. For a free consultation, contact us today!
Quality AC Repair
It's vital to have your air conditioner serviced on a regular basis to ensure that it's functioning smoothly and properly. Eastin Air can do these inspections for you, ensuring that your air conditioner is always in good working order. We also provide a variety of other services to ensure that your air conditioner runs efficiently for years to come. When you need us, Eastin Air is always there for you! We're available for you, 24 hours a day, seven days a week, so please don't hesitate to contact us if you require assistance. Overtime is never charged!
Quality AC Service
Eastin Air is a full-service HVAC and heating business that can service and repair all makes and models. We've been in business for over 35 years and have the knowledge and expertise to get your system back up and running. We offer a variety of services to ensure that our customers are completely satisfied.
Energy Saving
When we can assist our customers in saving money, we are ecstatic! Eastin Heating and Air offers services like the Energy Audit and Blower Door Test to help you save money on your electric bill. An energy audit is a thorough examination of how much energy your home consumes and where it is consumed. The audit will also reveal strategies for you to reduce your energy costs. A blower door test is a diagnostic procedure for determining a building's airtightness. This test will help you find any air leaks in your home so you can seal them up and save money on your energy bill!
We also enjoy providing seasonal advice for managing your air conditioning and heating systems, such as:
Spring: Check your filters in the spring and replace them if necessary. You should also have one of our technicians inspect your system to make sure it's in good working order for the summer.
Summer: Keep an eye on your energy consumption and make sure your air conditioner is working properly. This can be accomplished by inspecting the coils and ensuring that there is sufficient refrigerant. Also, leave all of your house's vents open to allow the cold air to circulate correctly.
Fall: Before winter sets in, have one of our professionals come out and clean your ducts. This will ensure that your heating system functions well throughout the winter!
Winter: Keep a watch on your energy bills this winter to see whether you're consuming too much. If you are, look for ways to save energy, such as turning off lights when not in use, unplugging appliances when not in use, and maintaining the thermostat at a lower setting. You can also install a programmable thermostat to control the temperature at specific times throughout the day. Eastin Air may save you both time and money!
Thank You!
Thank you for considering Eastin Air for Plano air conditioning repair. We are grateful for the opportunity to serve you, and we will do everything we can to make sure you are completely satisfied with our services. We take pleasure in offering high-quality service at a reasonable price, and we are always accessible to assist you when you require it. For a free consultation, contact us today!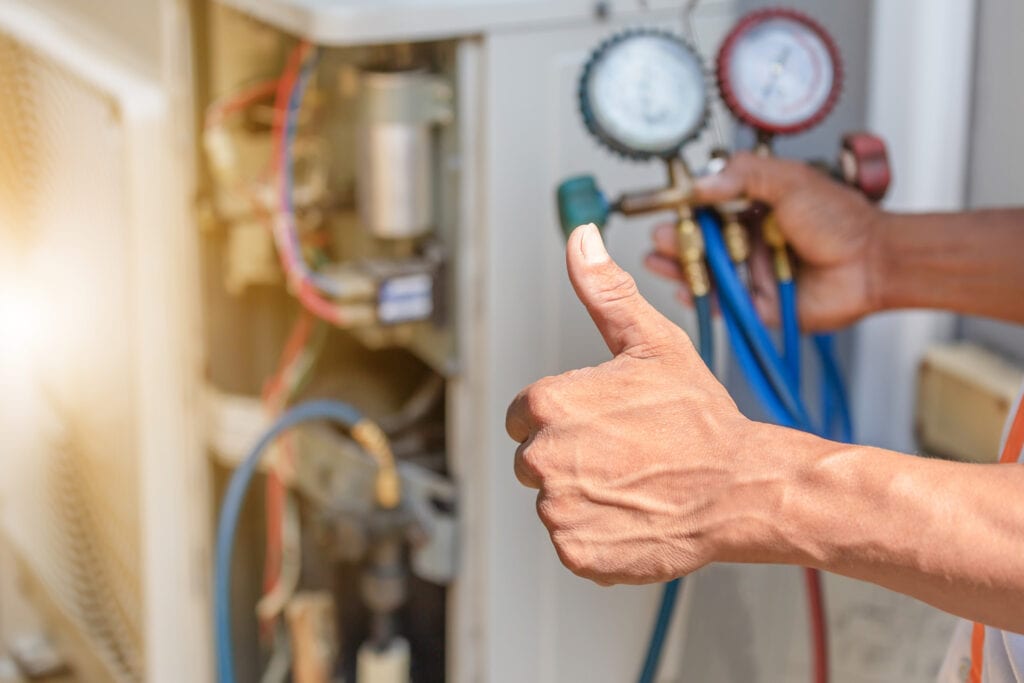 Get Started
Whether you need an assessment, repairs, or a new installation, we're ready to help!